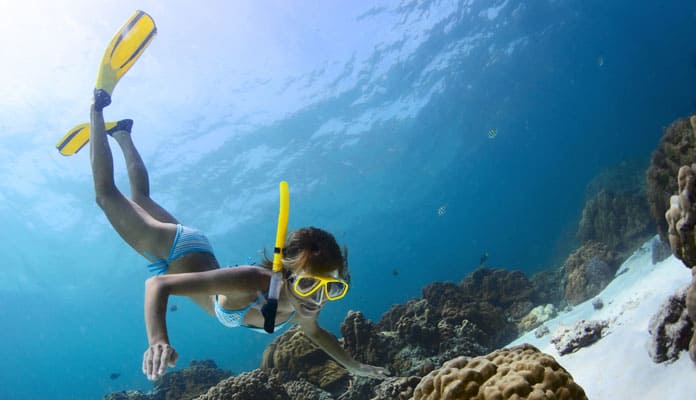 Courtesy-globosurfer
Apart from surfing, there are other popular water sport activities you can do at Byron Bay. Here's a list of must-try water sport activities you can do during your visit here.
Turtle Snorkeling at Byron Bay for 3hrs – Head over to the Julian Rocks Marine Reserve to experience snorkeling along with seaturtles. Before you head straight to the water, there are training pools to practice if you're new to this activity. Along with sea-turtles, you'll also get to see manta rays and wobbegong sharks.
Scuba Diving for 5hrs – This activity takes place at Byron Bay for a period of 5hrs. You'll be given training, and then you'll head straight over to the site for the dive. Safety equipment is provided to all and when you dive, you'll be witnessing marine species like blue gropers, manta rays and more.
Stand-up Paddle Boarding – This activity takes place at Brunswick River for 2.5hrs, where you'll be trained to paddle board by certified professionals. After training, head straight to the water to see some beautiful sights of nearby surrounding as well as water species like turtles.
Surfing for 2 days –If you want to learn the skill of surfing then head over for a surfing course at Byron Bay. You are provided necessary equipment along with safety instructions and taught by professional surfers.
Accommodation is not a problem at Byron Bay as there are luxury hotels to rental apartments. There's also luxury boutique accommodation at Byron Bay if you're looking for stylish, classy stays.