After spending 25 years of marriage together silver is the material of choice for this fantastic milestone. Silver is used due to its brilliance and radiance and rightly so! 25 years together is a magnificent achievement. There are numerous options available to you for silver gifts and this article aims to point you in the right direction for a fantastic one.
Gifts to make for the Occasion
A great way of showing a loved one how much you care is by making them a wedding anniversary gifts. This is a great way of showing how thoughtful you have been in taking the time to plan out and create a gift for the recipient on this fantastic occasion. Below are a few options available to you for the silver anniversary.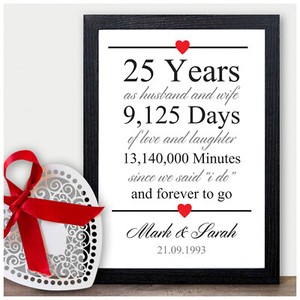 1, Put together a CD – This is an excellent gift for any anniversary. You can choose songs throughout the 25years together that you have both loved. If your memory is strong enough and the disk space large enough you could choose one song from each of the 25 years.
2, Memory photo album – This is a fantastic gift idea. You can include all the great photos from the 25 years you have spent together and you might like to focus on things like your wedding day, great holidays you have spent together or pictures of a new family member to name but a few.
3, Write a Poem – if you're creative enough then this is a great gift idea and is an excellent way for you to put all your emotions onto paper. Try writing in silver ink and present the poem in a silver frame to make it fitting to the occasion.
4, Make a wish tree – Why not make your loved one a beautiful wish tree. Just take a big branch and paint it silver. Once its dry you can then decorate it with silver ribbons and personal decorations from your 25 years together married.